The 5800 series, the big brother of the TrommALL® family. This machine is very much based on the 5100 series, just bigger, better and longer. This machine came about due to a series of client requests, which we were more than happy to address.
While the wheeled version is the preferred model on the 5100, clients seem to choose this model as a tracked machine. Like the 5100 this machine comes as standard with a tier 4 engine and a choice of conveyors and mesh sizes.
Extended Length 12.78M
Height of hopper 3.21M
Drum size 1.5m X 3.7m
Diesel / Hydraulic Powerunit
Safety guarded to CE specifications
Full length impact bed in feeder
Impact bed in tail conveyor
Hydraulically movable feeder conveyor
Quick drum change
Remote greasing
4 Wheel Drive Drum
Ground level adjustable brushes
Easily transported
End tensioned screens
Heavy duty drum shafts with taperlocks
Cast iron pumps and motors
Hydraulic oil cooler
Variable speed belts
Roll out product conveyor for maintenance
Technische fiche
TrommALL 5800 Spec Sheet
Video's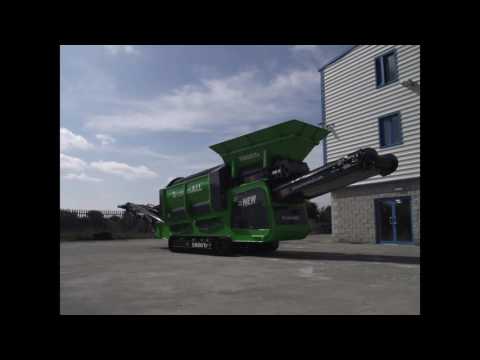 Deze machine liever kopen?
Dat kan. Bel naar Jo op 0475 84 31 49 om de mogelijkheden te bespreken. Of bekijk alle modellen die te koop staan: