Our TrommALL® 5100 series is the original, this machine was first designed in 2012 and came to market 1 year later and proved a huge success for the company. This small but extremely versatile trommel became the blue print for our growing company, it is this machine that inspired us to coin the phrase "Overbuilt to Outperform".
Since our original machine we have continued to only use recognised brand name component parts in our machines. We make a point of ensuring that every aspect of the build, is built to last, from the gusseted chassis to the 2 pack undercoated anti corrosion paint.
The TrommALL® 5100 series, like its smaller brother the MS2500 is available in a variety of models. This size machine is most popular as the wheeled version pictured above, however it also comes as a tracked machine with or with out side conveyors.
We have used this machine to screen everything from shredded carpet to quarry rock. It comes with the mesh of your choice from 120mm punch plate down to 6mm mesh
Extended Length 11.8M
Height of hopper 3.08M
Drum size 1.5M x 2.7M
Tier 4 engine Diesel / Hydraulic Powerunit
Safety guarded to CE specifications
Full length impact bed in feeder
Impact bed in tail conveyor
Hydraulically movable feeder conveyor
Quick drum change
Remote greasing
4 Wheel Drive Drum
Ground level adjustable brushes
Easily transported
End tensioned screens
Heavy duty drum shafts with taperlocks
Cast iron pumps and motors
Hydraulic oil cooler
Variable speed belts
Roll out product conveyor for maintenance
Technische fiche
TrommALL 5100 Spec Sheet
Video's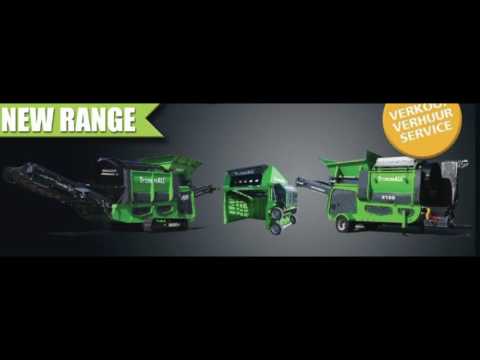 Deze machine liever kopen?
Dat kan. Bel naar Jo op 0475 84 31 49 om de mogelijkheden te bespreken. Of bekijk alle modellen die te koop staan: